PRODUCTS
Blackcurrant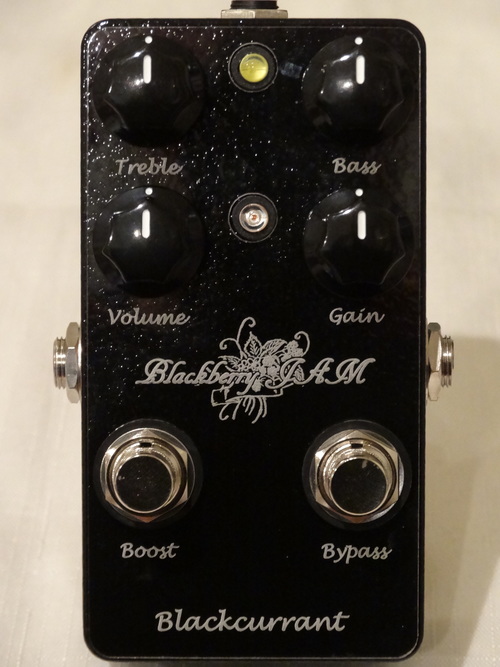 Blackcurrant   ¥27,000(Excluding Tax)
"Blackcurrant" is a finished, modern, dense overdrive!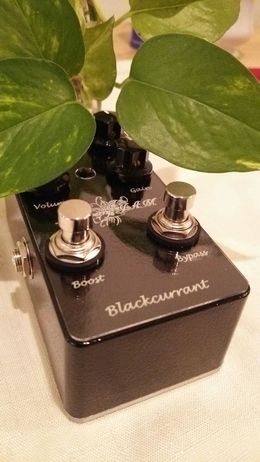 Transparent and sparkling high area, dense mid range drifting elegantly, thick, abundant and comfortable low range. The glossy clean when squeezing the volume on the guitar side is superb.
In addition, stepping on the Boost switch loudly raises the sound and becomes Fat overall.
Stratocaster, Telecaster, Les Paul ...... I think that both single coil and humbucker show good compatibility to each.Regardless of the type of amp, it is all right. There is no problem at all with a transistor amplifier. I think that it may be a JC amplifier and I think that it also shows good compatibility with small transistors / amplifiers of about 15 W to 20 W which are often used at home.
" Blackcurrant " is tuned so that low frequency appears, so even if you play with a small volume you get moderate power and I think you can play fun even in an environment where you can not raise the volume. Of course there is no doubt that it is the most pleasant to connect to a vacuum tube amp and ring the loud!
I think that you will surely be satisfied with the guitarist who seeks a delicate nuance expression regardless of professional, amateur with a silky distortion's smooth playing comfort.

" Blackcurrant " is an amuptuous overdrive that you can say with confidence when you make an amp with Blackberry JAM when it comes to this sound.
Enjoy musical and organic sounds and amp-like texture to your heart's content.
Control : (Left to Right)
Upper stage:Treble、Bass Lower stage:Volume、Gain
Volume:Ajust the overall Volume
Gain  :

Adjust the overall volume
Treble :

Adjust high frequency distortion and volume


Bass :
Adjust low range distortion and volume
SPECS
External dimensions (length / width / height): 112 mm x 60 mm x
56mm
Weight: 370 g
Current consumption: 9 VDC / 6 mA
Built-in battery: 9 VDC (006 P) x 1 recommended (DURACELL ROCELL 9 VDC)
Power supply adapter (sold separately): 9 VDC, Negative Tips (Regulated recommended)
True bypass